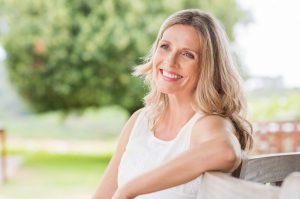 Many people walk into a cosmetic surgeon's office hoping to walk out better looking, and happier for it. But will a fuller bust or smaller nose really make your life better? Research suggests yes. Having other people view you in a more attractive light has no impact on your happiness. But if you perceive yourself as more attractive, you will be happier. What matters most is your feelings – no matter what anybody else thinks you look like. For a more in depth look at your options for cosmetic surgery, including a face lift in Los Angeles, contact Dr. Ourian today to get on the road to a soaring self-image.
"One recent study revealed benefits across a wide range of outcomes, including anxiety, social phobia, depression, body dysmorphia, goal attainment, life satisfaction, mental and physical health, self-efficacy, and self-esteem." (1) Breast augmentation and reduction were most strongly associated with greater self-esteem and social confidence.
Cosmetic Surgery in the Digital Age
A positive self-image may be more important than ever in the digital age, when social media and selfies demand that you look your best around the clock, and at a moment's notice. In fact, there has been a recent rise in young people seeking cosmetic surgery, so much so that the phenomenon has been dubbed the "Facebook Facelift." Younger people (30 and under) are also getting more noninvasive treatments such as Botox and facial fillers. The effects of cosmetic surgery are not short-lived. Psychologists who tested patients 12 months after surgery exhibited the same signs of improved self-confidence.
Setting Realistic Expectations
Realistic expectations are crucial to getting the boost in self-confidence that you are seeking from your cosmetic surgery procedure. Patients who went into surgery expecting to come out looking perfect and have all their problems solved were, not surprisingly, disappointed with the results. Further, these patients did not experience much improved quality of life after surgery because they expected the surgery to change them into a completely new person.
Patients who reported a desire for enhanced appearance and to simply feel better about themselves were much more likely to experience improved self-image and overall happiness. So, make sure you are having surgery for the right reasons, and that you know what you are getting into before you commit.
Setting a Plan
You are more likely to be satisfied with your cosmetic surgery results if you meet with your surgeon for sufficient consultations beforehand to make sure that you agree on a plan for your surgery. Your surgeon can take measurements, take photographs, and show you before and after examples of past patients so that you can cement your plans for how you want to look post-surgery.
Cosmetic Surgery and Depression
A study by the American Society of Plastic Surgeons came up with some interesting results about cosmetic surgery and depression. Among the sample group of plastic surgery patients, antidepressant use decreased by 31% after a six month follow up appointment. This shows how important body image can be to our psychological well-being, and how big of an impact plastic surgery can have on repairing a negative body image.
A Domino Effect
A boost in self- esteem can have far reaching effects in your life. You may experience increased success in romantic relationships, employment status, and assertiveness in every aspect of life due to your newfound confidence. You can stand taller and dress more fashionably – who knows where that will lead you?
A Word on Reconstructive Surgery
Cosmetic surgery can be divided into two categories – aesthetic and reconstructive. So far, we have been discussing aesthetic surgeries – that is, voluntary surgeries undergone to enhance appearance. People also undergo reconstructive plastic surgery – that is, craniofacial surgery, hand surgery, microsurgery, and the treatment of burns. These surgeries aim to repair a part of the body or improve its functioning, and unlike aesthetic surgeries, are not solely cosmetic. It should be obvious that these reconstructive surgeries have a profound positive impact on patient's lives. However, when discussing the psychological effects of plastic surgery on self-esteem, etc., most of the research refers to aesthetic or cosmetic procedures.
Cosmetic Surgery and Facelift in Los Angeles
Dr. Simon Ourian at Epione Beverly Hills performs only the cosmetic surgeries in which he has specific expertise so that he can obtain optimal results for his patients. This includes eyelid surgery, fat transfer, acne treatment, Botox, and face lift in Los Angeles. We offer VIP treatment and competitive pricing. Contact us today at (310)651.6267.