In the changing world of enhancements, finding the top non-surgical facelift options in 2023 is a blend of artistic and scientific pursuits. As technology advances and beauty standards evolve this article aims to help you navigate through the non-surgical facelift treatments this year empowering you to make an informed decision towards achieving a more youthful and revitalized appearance.
HIFU non-surgical facelift
HIFU, also known as High Intensity Focused Ultrasound, is a surgical procedure that employs focused ultrasound energy to stimulate collagen production and tighten the skin. During an HIFU treatment session a handheld device is utilized to deliver ultrasound energy at depths beneath the skin surface. This energy generates heat triggering which is a natural healing response within the body that results in the production of collagen fibers. Ultimately this increased collagen production leads to skin tightening and lifting while visibly reducing wrinkles and sagging.
HIFU stands out as one of the leading surgical facelift options in 2023. This groundbreaking treatment utilizes ultrasound energy effectively for skin lifting and tightening significantly improving wrinkles appearance and combating sagging.
HIFU has become increasingly popular due to its effectiveness and minimal recovery time making it a leading contender in the world of non-surgical facelifts in 2023.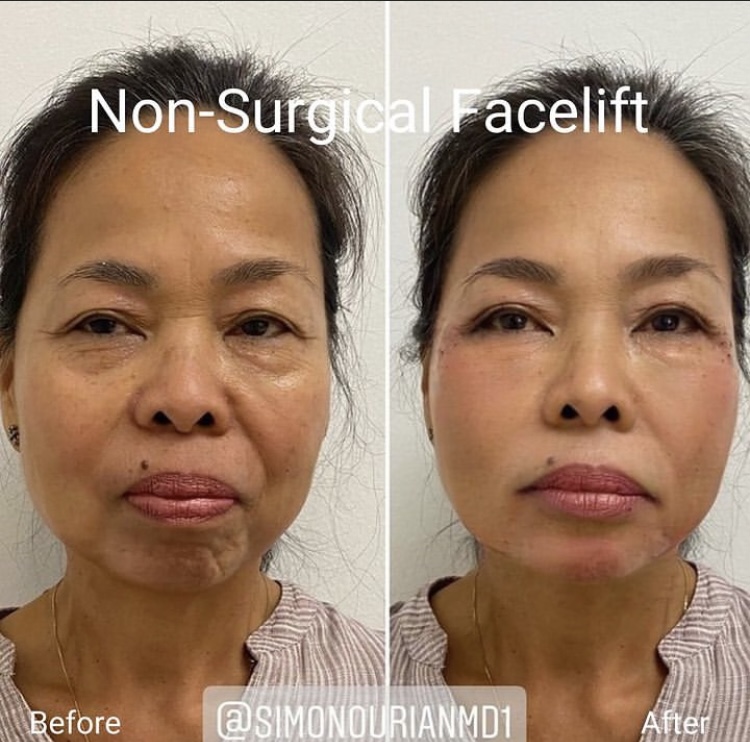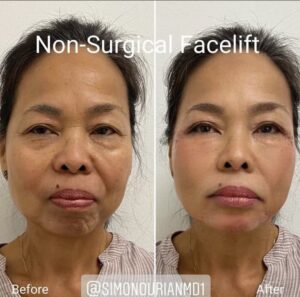 CACI non-surgical facelift
CACI for Computer Aided Cosmetology Instrument is a surgical facial treatment that utilizes microcurrent technology to stimulate facial muscles and enhance skin tone. It is commonly used for toning and lifting the face resulting in a youthful appearance.
While CACI remains a known option for non-surgical facelifts and one of the best choices in 2023, moving forward with it still depends on the individual preferences and requirements.
Dr. Simon Ourian's instant, non-surgical facelift
Cosmetic dermatology doctor Dr. Simon Ourian uses a combination of non-surgical procedures to perform face lifts on his patients. He harnesses the powers of Neustem dermal fillers, ultrasound, and Coolaser to instantly reverse the signs of aging on his patients' faces. The treatment typically takes an hour and requires only topical anesthesia to lessen pain.
Which non-surgical facelift is the best?
Determining the non-surgical facelift option to go with depends on the patient's personal goals and needs. All three options mentioned above are absolutely great choices. However, what constitutes the best option for someone varies from person to person. It is advisable to consult with a professional to determine the suitable choice for you.