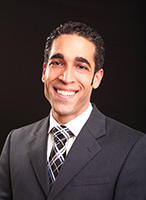 Dr. Nima Shemirani is a Board Certified otolaryngologist who specializes in facial plastic surgery. It is his passion and dedication to providing not only the best results possible, but also diligently serving the needs of his patients. He chose to become a facial plastic surgeon because it has allowed him to combine medical science and surgical skill with an artistic eye to literally change people's lives from the outside-in. Seeing his patients in follow-up who are pleased with their results is the most satisfying part of Dr. Shemirani's work and is what drives him to continually improve his practice of medicine.
Highlights
Dr. Shemirani is a board certified otolaryngologist specializing exclusively in facial plastic surgery.
He trained at the Medical College of Wisconsin for head and neck surgery-facial plastic surgery, a top 20 program.
He completed a one-year and highly competitive facial plastic surgery fellowship with the prestigious Glasgold Group in Highland Park, New Jersey.
He has spoken at several national meetings presenting research within the field of head and neck surgery-facial plastic surgery.
He has been published in numerous peer reviewed journals in the national and international communities.
Dr. Shemirani's Curriculum Vitae
Dr. Nima Shemirani is an independent private practitioner and is not partnered or affiliated with Epione Medical Corporation.