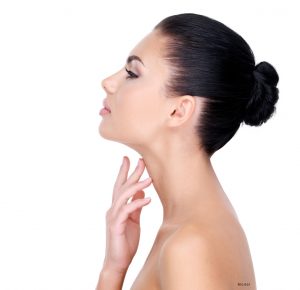 Chin implant surgery isn't one of the most popular cosmetic procedures, but it can improve the contours of the chin, neck, and jawline, providing balance to the face. Also called genioplasty, this procedure involves the placement of an implant around the patient's existing chin bone to provide a permanent solution to improve a patient's weak or recessed chin. Read on to learn the basics of this procedure and to see if you are a suitable candidate.
Interested in receiving a chin implant in Los Angeles? Visit Epione in Beverly Hills.
The Procedure
With most patients, a chin implant in Los Angeles is performed on an outpatient basis. The procedure typically takes about 30 minutes to one hour and the implant is placed through your lower lip or under the chin. In addition to a chin implant, some patients elect to also have a lower jaw implant which takes a little long and involves placing the implant inside the lower lip.
Recovery
According to the American Board of Cosmetic Surgery, most patients will experience very little down time and be back on the job and enjoying their normal daily activities within a week post-surgery. Swelling and some discomfort can happen but is usually controlled with cold compresses and pain medication.
Your surgeon will have you sleeping on your back with your face up and your head elevated for a week or two after surgery. This will help to control the swelling and protect any incisions. Patients also need to adhere to a liquid only diet for the first few days after surgery. Usually strenuous activity can be resumed three to four weeks after surgery. Once any residual swelling has disappeared, results will begin to look permanent after about a month and are considered final after three months.
Candidates and Complications
A viable candidate for a chin implant is someone in good health who is not necessarily wanting to look like someone else but just wants to enhance their features. A qualified surgeon will discuss your medical history and advise you on any other procedures or concerns you might want to consider.
As with any medical procedure, there are some risks in terms of side effects or complications. Because an implant is being inserted into your chin, there is the chance it could shift, and you could need another procedure to correct the problem. There is also a risk of infection which can be treated with antibiotics. Patients experiencing a fever of more than 100 degrees or abnormal pain or swelling should contact their doctor immediately.
Finding the Right Cosmetic Surgery Team
It's important to do your homework if you think chin implant surgery might be an option for you. Finding the right team of cosmetic surgery professionals will be the key to your comfort and the success of your procedure. The team at Epione Beverly Hills is ready to answer all your questions.
The staff provides clients with the highest level of personal attention and care. They work as a team with patients to restore or create the desired appearance. Epione has been the site of exciting, innovative research projects designed to improve patient care and evaluate modern technology. Physicians, surgeons, nurses and other health professionals strive to serve their patients with a combination of technical expertise and personal compassion. The physicians at Epione have been instrumental in the development of several laser systems, which are now utilized by leading medical facilities around the world. Many people who come to Epione seek a specific change; others desire a more youthful appearance. Some are referred by physicians; many come on their own. All are served by a dedicated staff of health care professionals.
Chin Implant in Los Angeles
Learn more about Epione including scheduling a virtual consultation, viewing photos and videos and learning more about Dr. Simon Ourian, MD, by contacting us today.